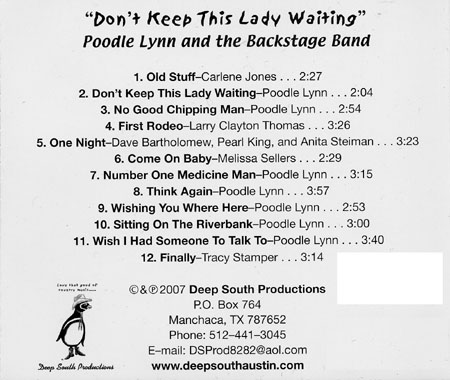 ---
"Don't Keep This Lady Waiting"
Poodle Lynn has been writing and performing traditional country music for nearly five decades. She is also a fine blues writer and performer. This latest CD from Poodle Lynn and the Backstage Band has eight songs written by her and five songs by other fine writers. She continues to perform all over the US, entertaining audiences with her wonderful songs and showmanship. This CD will be a joy for everyone to hear. Don't keep this lady waiting!
Poodle Lynn was born Flora May Lewing in 1946 in Buna, Texas just east of the Louisiana border. Her father gave her the name "Poodle" as a child. "Lynn" was tagged on by coworkers at one of her day jobs.
She was raised in Houston, Texas listening to Country and Cajun Swing music as well as gospel music. At age eight, she started playing piano and singing in the churches where her father, Albert Lewing, preached. She got her first guitar when she was twelve. This is when she wrote her frist song "Come With Me To The Chapel" that is on this CD.
After graduating from highschool at age 17, Poodle joined her brother, Albert, Jr.'s band and began her singing and plaing career. She pursued her singing/songwritign ambitions while working variuos "day jobs." She has performed all over Texas and Louisiana in 1982. She did some recordings in Nashville and was invited to the Louisiana Hayride to perform her songs.
She also managed to raise three children while prusuing her music. In 1985, Poodle Lynn formed the Backstage Band with her teenage children. They started playing the clubs all around Texas.
You can buy Poodle Lynn's Country's All I'll Be from www.CDbaby.com