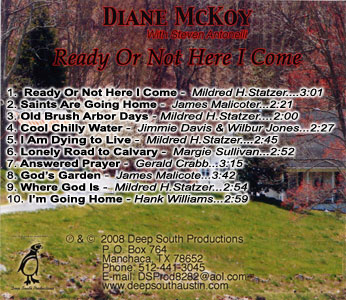 Diane McKoy: Ready or Not Here I Come
---
Diane McKoy
Dr. Ralph Stanley says of Diane:
"I've known Diane McKoy for many years. She is a wonderful singer and a fine Christian woman. If you like good bluegrass gospel music that comes from the heart, you'll like this new album by Diane McKoy. It's a good one!"
McKoy has been active in Country/Bluegrass Music since 1979. In 1992 Diane founded the "Singing Conquerors" with her co-founder Russell Scholl. That group thrived for more than 13 years, played at the Whitehouse, major bluegrass festivals and can be seen in Dr. Ralph Stanley's documentary, "Hills of Home". Gospel Music has been the bedrock of Diane McKoy's musical journey. McKoy has recorded as an artist on Columbia/Epic, and Scepter/Hob Records. Now you can get her most current recording here on Deep South Productions!
You can buy Diane's Ready or Not Here I Come from www.CDbaby.com